Inaugural class includes entrepreneurs taking on real-world challenges from aging to air pollution
By Lindsay Brownell
(BOSTON) — At the Wyss Institute, we hold fast to our motto that "Breakthrough discoveries cannot change the world if they do not leave the lab." What isn't included in that pithy sentence is the recognition that it takes years of incredibly hard work, intense team-building, risk-taking, overcoming disappointments, and grit to turn a good scientific idea into a viable product and successfully bring that product to the market.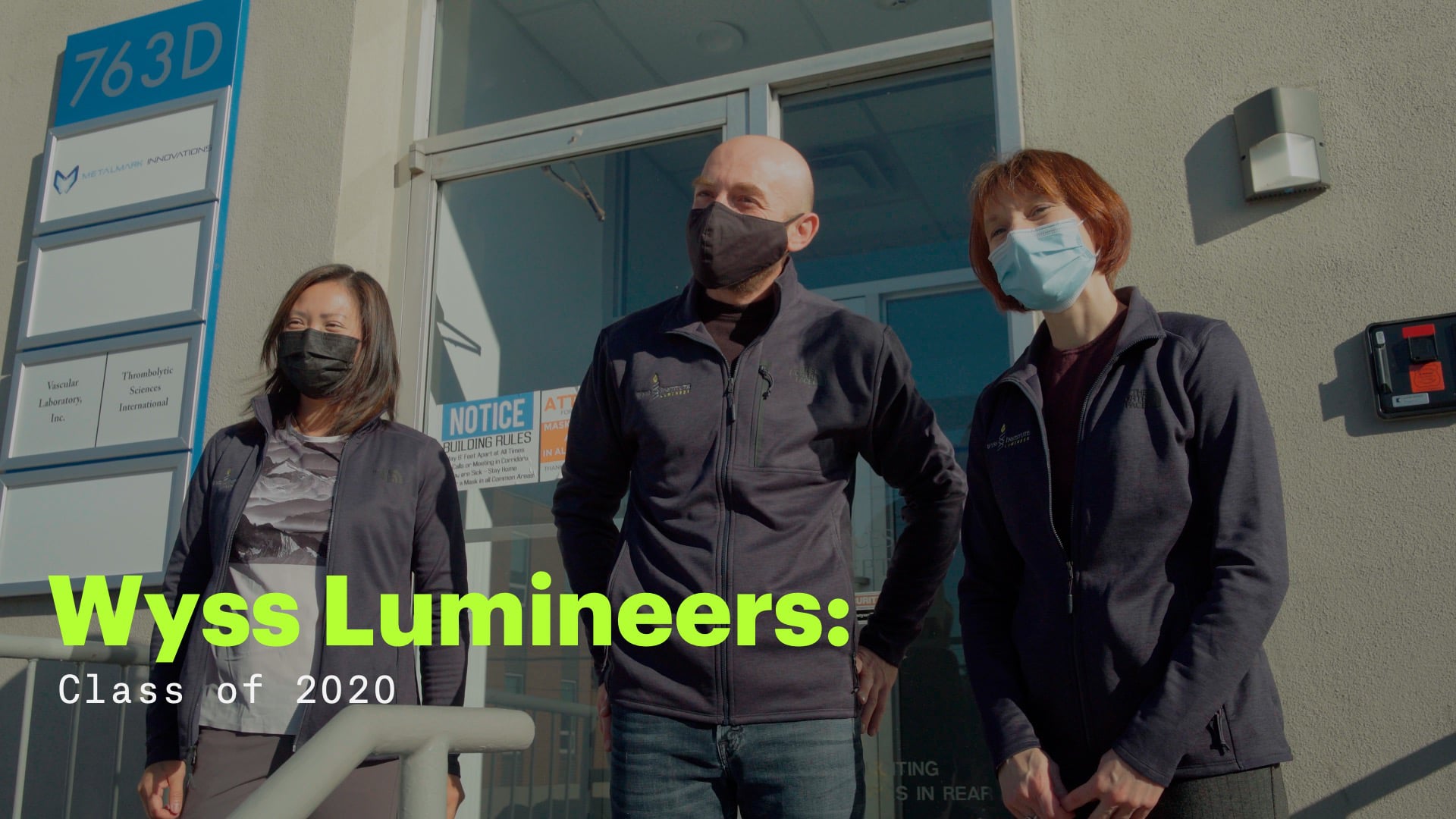 To celebrate our members who have risen to that challenge and committed themselves to the path of entrepreneurship, we announce the Wyss Lumineers Class of 2020. Lumineers are Wyss members who are blazing their own trail out of academia and into industry to commercialize world-changing technologies, and helping to illuminate the path forward for others at the Wyss Institute who also aspire to found their own companies. This year's honorees are taking on some of the world's toughest challenges in areas including wearable robotics, air purification, drug delivery technology, gene therapy approaches, and diagnostics.
"Having the vision to take a Wyss technology into a new enterprise takes great dedication and fortitude, and we want to make sure our startup founders know that we celebrate their achievements and recognize all of them as an important part of the extended Wyss family," said Angelika Fretzen, Ph.D., the Wyss Institute's Technology Translation Director. "In addition to changing the world, Wyss Lumineers will stay engaged with this community and contribute their experiences to help young entrepreneurs found future successful startups."
The inaugural Lumineers class not only faced the myriad challenges of exiting the Wyss Institute with a new startup, but did so during the added uncertainty and upheaval of a global pandemic. The Class of 2020 has demonstrated deep expertise, unshakeable determination, and an inspiring drive to succeed with their plans of company formation, undefeated by COVID-19.
The 2020 Wyss Lumineers are a diverse group of scientists, entrepreneurs, and industry experts, and all share the commitment to maximize the impact of their innovative technologies. In addition to successfully developing commercializable products, they have been assembling resilient startup teams to ensure that their products complete their journey toward changing the world.
The Wyss Lumineers Class of 2020, their startups, and their mission statements
Alexis Rovner, Ph.D. – 64x Bio
Faculty Advisors –  George Church and Pam Silver
Transforming the future of cell and gene therapy manufacturing with high-throughput discovery and design of enhanced cell lines for next-generation biomanufacturing and therapeutics 
Tyler Brown, Ph.D. – i2o Therapeutics
Faculty Advisor – Samir Mitragotri
Creating the next generation of oral peptide and protein-based therapies using an innovative ionic liquid technology, this platform leverages the benefits of protecting the drug cargo while also transiently enhancing permeation across the epithelial lining when administered orally
Pierce Ogden, Ph.D. and Gleb Kuznetsov, Ph.D. – Manifold Bio
Faculty Advisor – George Church
Building a protein barcoding platform to bring the power of multiplexed measurement to development of protein therapeutics, exponentially increasing measurement throughput at all stages of drug development
Sissi Liu, Elijah Shirman, Ph.D., and Tanya Shirman, Ph.D. –  Metalmark
Faculty Advisor – Joanna Aizenberg
On a mission to address challenges associated with indoor and outdoor air pollution and climate change by inventing novel materials that can decompose contaminants and improve energy efficiency of buildings, vehicles, and much more
Noah Davidsohn, Ph.D. and Daniel Oliver – Rejuvenate Bio
Faculty Advisor – George Church
Targeted gene therapies directed at curing specific disease states associated with old age in pets. These therapies have the potential to extend overall health and lifespan of animals and, potentially, humans
Shawn Marcell – Torus Biosystems
Faculty Advisor – Peng Yin
Developing the next generation of rapid, near-patient, infectious disease diagnostics based on the integration of novel technologies to provide seamless, comprehensive, sample-to-insight test results for major infectious diseases in a faster and more accurate format
Ignacio Galiana, Ph.D., Nicolas Menard, Nathalie Farster-Degenhardt, and Michael Rouleau – Verve Motion
Faculty Advisor – Conor Walsh
Developing wearable solutions to empower the way people move in the world
Please get in touch with us if you are interested in working with us to form a new startup, license a technology, or become an Entrepreneur in Residence at the Wyss Institute.