The Wyss Institute's multi-disciplinary capabilities provide a strong foundation for developing more effective antibody-based strategies to deliver therapeutics to the brain than ones that currently exist to treat brain diseases. In the Brain Targeting Program, a Wyss team led by Principal Investigator James Gorman, M.D., Ph.D., and co-PI, Core Faculty member, and Founding Director Donald Ingber, M.D., Ph.D., are collaborating with multiple industry partners to discover more effective approaches to deliver therapeutics across the blood-brain barrier (BBB).
For the treatment of brain diseases such as neurodegenerative disorders and brain tumors, transporting therapeutics across the BBB remains a significant challenge. The capillary vessels and associated brain cells form a highly selective security barrier that actively blocks the entry of most drugs into the brain. On average, less than 1% of any drug administered to a patient enters the brain from the bloodstream.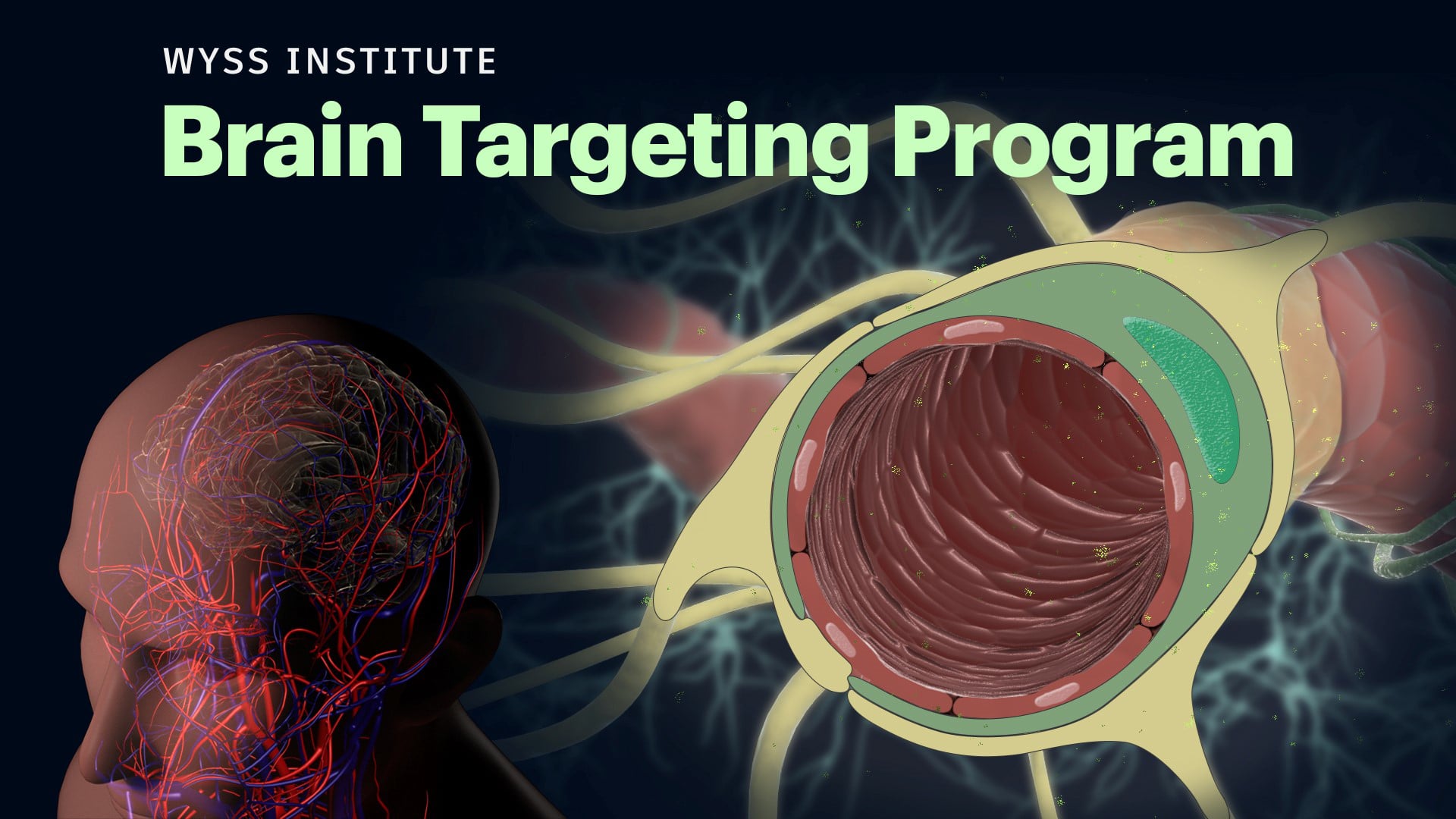 Leveraging a comprehensive technology pipeline, which encompasses different 'omics approaches, a bioinformatic brain delivery target discovery platform, and advanced in vitro and in vivo models, the initiative aims to identify transport target proteins in the BBB and develop improved compounds to bind these targets and deliver drugs into the brain. Newly developed antibody compounds that bind to these targets could greatly facilitate the delivery of future therapeutics to the brain. The pharmaceutical companies Bristol-Myers Squibb Company (U.S.A.), Eisai Inc. (Japan), and H. Lundbeck A/S (Denmark), are equally supporting this research effort and will share in the program's findings to inform their own drug development activities.
Through additional agreements, the Wyss Institute is collaborating with Cell Signaling Technologies, Inc. to study RNA and protein expression in different tissues in order to identify new BBB transport targets, and with Lundbeck and FairJourney Biologics, a Portugal-based antibody discovery company, to co-develop antibody compounds to shuttle drugs into the brain via known and novel targets identified in the broader program.
The complementary research agreements, constituting a unique collaboration model for the Wyss Institute, were set in place by Harvard's Office of Technology Development (OTD). This model allows for other interested companies to join the consortium.
Publications & Press
Taking the brain apart to put it all together again
Nature Biotechnology | August 2018
Fluidically linked Blood-Brain Barrier and Brain Organ Chips offer new method for studying the effects of drugs and disease on the brain and its blood vessels
Crossing a barrier in the study of neurological disease
PLOS One | March 2016
A human blood-brain barrier-on-a-chip device developed at the Wyss Institute offers new ways of studying drug delivery and neurological disease in vitro