Help us investigate how memory is anchored in DNA
Study overview
Researchers at the Wyss Institute at Harvard University and Harvard's Personal Genome Project (PGP) are studying how memory is anchored in DNA. Insight into these gene-memory relationships could potentially provide new impetus for understanding the failing memory functions of people with Alzheimer's disease and other dementias, and for identifying memory-boosting mechanisms.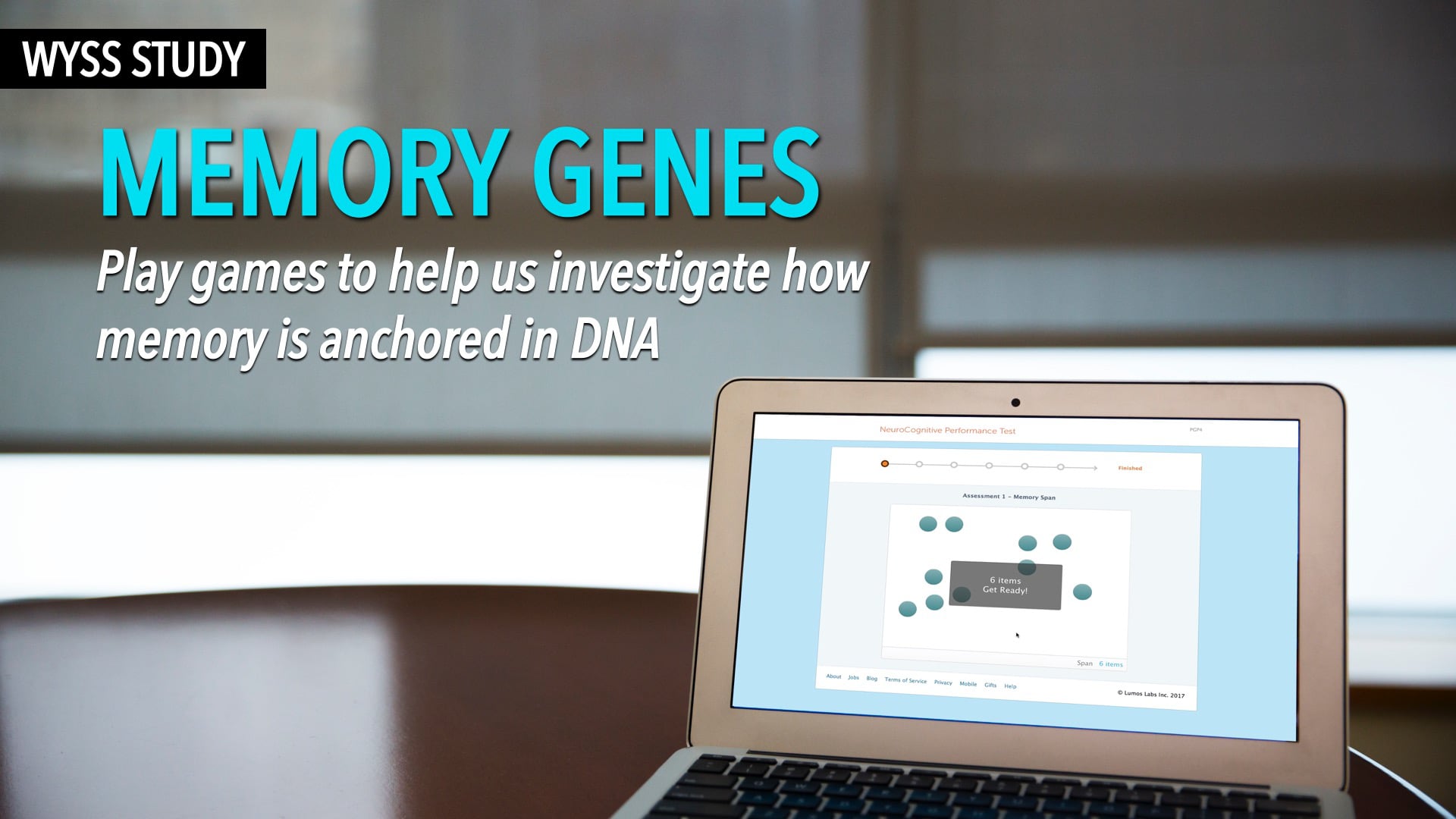 The study assessment
Participants are asked to complete six online games aimed to assess memory, attention and reaction speed. The test is preceded by practice exercises to familiarize participants with the games. The tasks to be completed by the participants include recollecting a series of blinking objects, associating symbols with digits, distinguishing objects seen before from novel items, measuring reaction speed to an object seen before and counting simple colored geometric shapes appearing in succession. Researchers will then group test scores and identify subjects with the high performance.
The exceptional performers, along with a set of control individuals, will be asked to provide biospecimens to determine their genome sequence, which the research team will use together with experimental models to formulate new hypotheses. Their findings could shed light on efficient memory functions and potentially invigorate research into Alzheimer's disease and other neurodegenerative disorders.
How to enroll
In order to volunteer for this study, participants must first enroll in the Harvard PGP. The Harvard PGP is an open science research project initiated in 2005 by George Church, Ph.D., a Core Faculty Member at the Wyss Institute and Professor of Genetics at Harvard Medical School. The PGP aims to collect data on a person's DNA, environmental background, and relevant health and disease information from consenting participants and make them publicly available to scientists who study the relationship between specific DNA sequences and various traits.
PGP enrollment requires that members are citizens or residents of the United States, at least 18 years of age and consent to sharing genetic, health and trait data in a public manner, in keeping with the open-science philosophy of the program. In addition to PGP registration and consent forms, the study requires participants to complete a survey with basic information pertaining to age, gender and ethnicity. Participants are anonymous and refer to their PGP ID for the study, however, given the open access nature of PGP, subjects could potentially be identified by genomic data. PGP participants are free to opt out of the program at any time and eschew future contact about collection of personal information and biological material.
Enrollment in this study will be of beneficence to society, and more personally, will provide participants and their family members with insight into their memory health, and the advantages and disadvantages of their genetic gifts. The PGP open platform is also an exciting avenue for participants to directly engage in science.
To register, please follow these three steps:
Register as a participant of the Harvard Personal Genome Project (PGP) here: https://my.pgp-hms.org/signup (Please note, this could take between 40-60 minutes. Instructions for registering can be found here.)
Once registered as a PGP participant, log into your profile (pgp-hms.org) and click on the PGP-Lumosity 3rd party activity
You will then be directed to provide for consent in the PGP-Lumosity study
For more information, please contact Rigel Chan, Ph.D., and Elaine Lim, Ph.D. at pgpresearch@wyss.harvard.edu.