The Wyss Diagnostics Accelerator's industry-facing Industrial Participant Program has put a framework in place for delivering solutions for high-value diagnostic problems
By Benjamin Boettner
(BOSTON) — The Wyss Institute for Biologically Inspired Engineering at Harvard University's Diagnostics Accelerator (Wyss DxA) formed its Industrial Participant Program (IPP) in 2021 as its industry-facing arm to complement the expertise of its clinical collaborators at Brigham and Women's Hospital (Brigham), and the Wyss Institute's multidisciplinary bioengineering community. The IPP is contributing essential market, manufacturing, as well as user-focused and regulatory experience to the Wyss DxA's newly conceptualized process of creating urgently needed disruptive diagnostic technologies for patients in areas of unmet medical needs.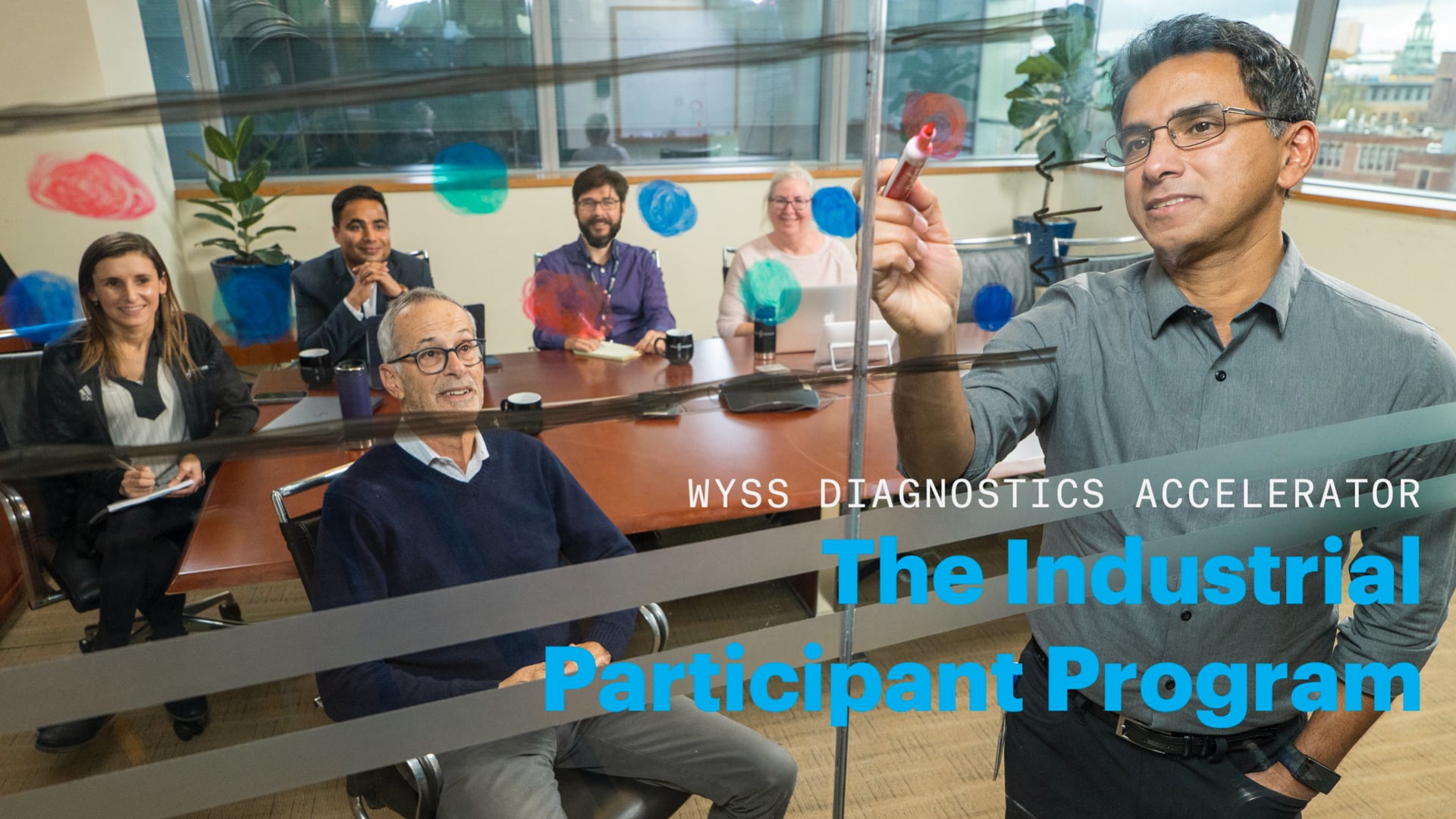 Originally launched as a pilot program, the IPP serves as a platform to explore collaborations across the diagnostic development pipeline, from early stage discovery through delivery of new diagnostics. Additionally, the IPP allows for member companies to connect with subject matter experts and key opinion leaders within the Harvard ecosystem, as well as through the Wyss DxA's external network to key stakeholders, including investors, regulators, payors, and other important entities. Now, with many promising collaborations in biomarker discovery, technology developments and clinical validations underway, the IPP has transitioned out of its pilot phase to an official program within the Harvard system, and consolidated its base of industrial partners.
"The IPP is a critical component of the Diagnostics Accelerator, as it provides Wyss researchers with access and insight to the diagnostics commercial sector, while providing our industrial colleagues a window into both clinical needs and novel technologies," said Wyss Core Faculty member David Walt, Ph.D., a founder and faculty lead of the Wyss DxA. He is also a Professor of Pathology at the Brigham, the Hansjörg Wyss Professor of Biologically Inspired Engineering at Harvard Medical School (HMS), a Howard Hughes Medical Institute Professor, and the scientific founder of Illumina, Inc. and Quanterix Corp, as well as co-founder of multiple other life sciences companies.
The IPP's operational framework facilitates regular and highly productive interactions between the Wyss DxA and its IPP members, including discussions of urgent diagnostic challenges and commercial opportunities that could arise from them. It also ensures the participation of medical and other key opinion leaders, and the coordination of challenge-focused sponsored research agreements.
Building out an effective member base
After an initial consolidation period, 18 diagnostics companies  joined the IPP on a steady basis, and another six were recruited during its follow-up period.
Industrial partipants:
ACESO-HJF
BioDot
bioMérieux
Camtech Innovations Ltd.
Charm Sciences
DaVinci Wearables
DxLab Inc.
Ethos Labs
Fluxergy Inc.
Folia Health
Foothold Labs
GLX Analytix
HP Inc.
IDEXX Laboratories Inc.
Kephera Diagnostics
Labrador Health
LifeSpin
Primary.Health
Sigenex
Singular Computing
Siphox
Unilab
West Pharmaceutical Services
Zoetis
Presently, these 24 IPP members bring deep understanding and insight to the development of market solutions for patients with sepsis and infectious diseases; cancer; neurological and psychological disorders; chronic pain and metabolic diseases, including diabetes and cardiovascular disease; and other health problems. In addition, IPP members also address diagnostic problems related to food safety and veterinary diseases. Their approaches span a wide spectrum of diagnostically relevant disciplines, ranging from assay and device development and manufacturing, to precision medicine, digital health, wearable diagnostics, to automation, high-throughput, and computational (AI and machine learning-driven) strategies. The IPP also provides its members with a forum for discussing mutual needs and issues confronting the entire industry.
"The concerted, focused and actionable approach adopted and espoused by the leadership team at DxA is sorely lacking in the diagnostic space. From the get-go, the leadership team made their goals crystal-clear: fast development and deployment of diagnostic tools to solve unmet medical needs," said Brian Della Valle, CEO of GLX Analytix. "We are thrilled to partner with this laser-focused and passionate team and are fully aligned with their mission to accelerate transformative technologies and save lives." GLX Analytix is pursuing a new avenue of diagnostic biomarker discovery for a variety of chronic diseases by focusing on sugar-specific cell signatures of injured tissues.
But the relationship between the Wyss DxA and its IPP members is a two-way street. On one hand, passionately pursued diagnostic projects can be advanced more rapidly towards patients in need because of critically important input provided by one or more members of the IPP. On the other hand, IPP members can get access to technologies developed by the Wyss Institute's engineering community and its collaborators on the basis of clearly identified clinical needs and market value.
"Our goal has been to bring together key stakeholders involved in the discovery, development and delivery of diagnostics for unmet clinical needs. The IPP plays a central role within the Wyss DxA and in carrying forward our vision, and we view it as an open community welcoming new members that can contribute critical expertise to our cause, " said Rushdy Ahmad, Ph.D., Head of the Wyss DxA, who coordinates the IPP program together with Trey Toombs, Ph.D., the IPP's Head of Operations.
"By putting an operational framework into place, the Wyss DxA's IPP has taken a first pivotal step. Together with the flurry of activities that we see emerging from this new type of academic-industrial initiative, this gives us ample hope that the Wyss DxA soon will have impact on the development of urgently needed diagnostics," said Angelika Fretzen, Ph.D., M.B.A., the Wyss Institute's Technology Translation Director & Chief Operating Officer.
IPP member testimonials