Wyss pediatric biotech startup Prapela is leveraging our stochastic resonance technology to develop an inexpensive mattress pad that delivers barely-detectable random vibrations to help soothe infants and normalize their breathing to address a variety of health conditions.
The Problem
Infants can suffer from a variety of conditions that affect their health, both in the short and long term. Babies that are born prematurely often have apnea, in which they experience pauses in their breathing that last for 20 seconds or more. This condition can be life-threatening, as it can lower their heart rates to dangerous levels, deprive their developing brains of oxygen, and could be a risk factor for sudden infant death syndrome (SIDS). Current solutions involve delivering caffeine while monitoring the infant around the clock and waking infants up when they experience an apneic event, which disrupts critical sleep time.
On the opposite end of spectrum are conditions such as neonatal abstinence syndrome, also called neonatal opioid withdrawal syndrome (NOWS). In this condition, the heart rates and breathing of infants suffering withdrawal due to their mother's opioid use during pregnancy often race out of control as the infants become frantic. These infants sometimes require morphine to help them through their withdrawal. Both apneic and frantic conditions require that babies are kept in the hospital until they can breathe consistently on their own, reducing critical parental bonding time. There is a clear need for better methods to stabilize infants' cardiorespiratory function and improve their health.
Our Solution
The Wyss Institute has developed a pediatric medical device for infant health by applying its stochastic resonance technology to create a gently vibrating mattress. The mattress offers a drug-free solution for soothing babies and reducing the likelihood of both apneic and frantic events. These random vibrations help normalize babies' breathing patterns without waking them, and also significantly reduce hyperirritability and instabilities commonly observed in opioid-exposed newborns.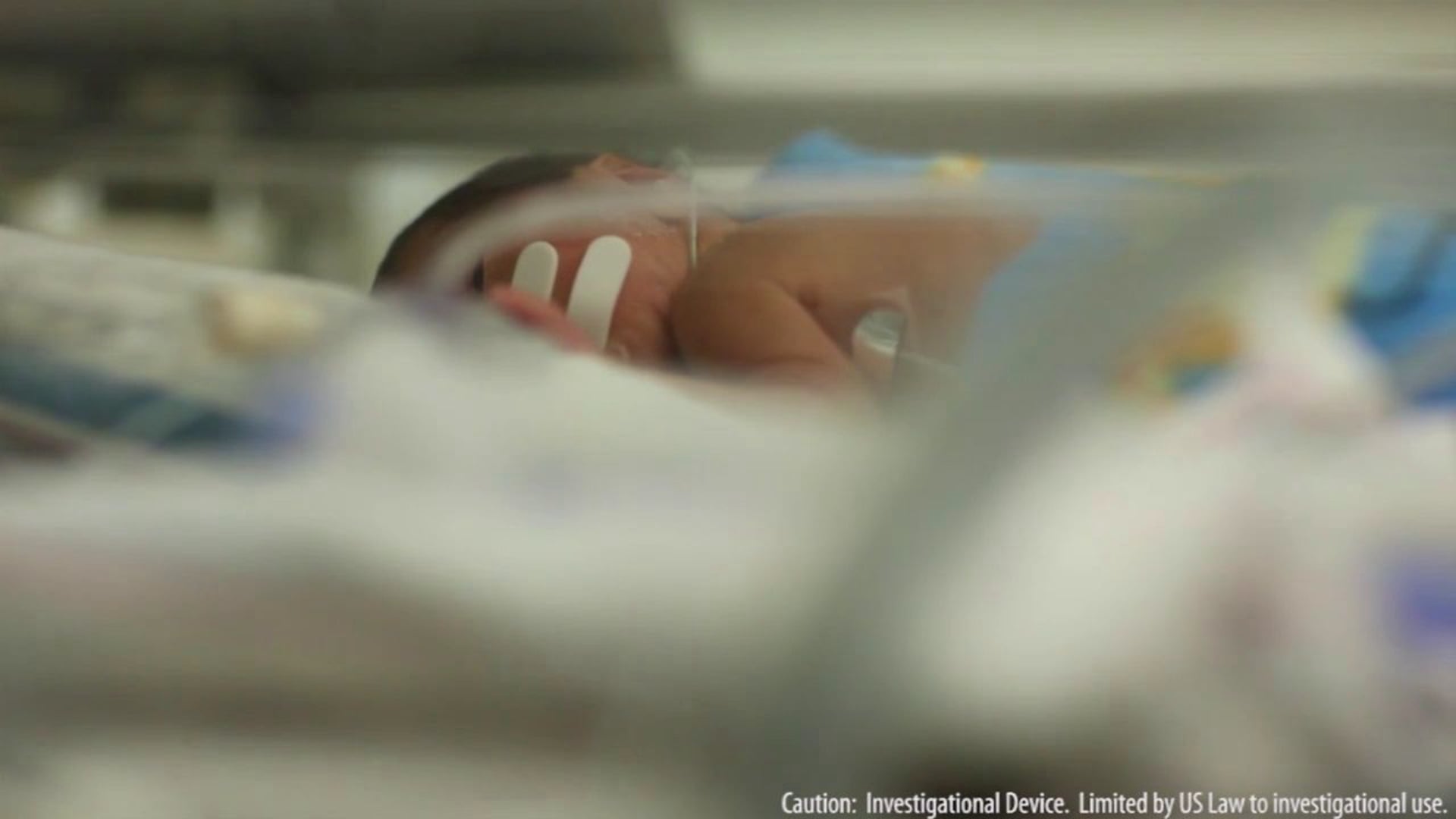 Product Journey
Former Wyss Associate Faculty member David Paydarfar, M.D. was conducting research on the effects of stochastic resonance – variable, low-level vibrations – on the function of sensory neurons. He discovered that stochastic resonance stabilized the function of "pacemaker neurons," which are located in the brainstem and control "automatic" functions like breathing, heart rate, and digestion. Because apnea is a result of the dysfunction of these pacemaker neurons, Paydarfar decided to apply his discovery to infant health by creating a mattress that could deliver stochastic resonance vibrations to sleeping babies and stabilize their breathing.
Starting in 2009, the Wyss Institute built an interdisciplinary team including electrical, mechanical, and software engineers to develop Paydarfar's idea from a handcrafted lab project into a robust medical device prototype. The team optimized the vibrational pattern, ensured that it was delivered consistently through the mattress surface, and collaborated with neonatal clinicians at both University of Massachusetts Medical Center and Beth Israel Deaconess Medical Center to support clinical studies demonstrating that the mattress had a therapeutic effect on infants with apnea.
In 2015, another study was initiated with the University of Massachusetts to determine whether the same technology could help infants with neonatal opioid withdrawal syndrome by reducing the spikes in heart rate and breathing rate that are often observed and cause the infants distress. The results of that trial indicated a therapeutic effect for this condition as well.
Armed with these confirmations of the vibrating mattress' safety and efficacy as well as new patent filings, the stochastic resonance team began extensive business development efforts to push this technology towards commercialization. John Konsin, then a Wyss Institute startup advisor, became intrigued by the technology when he learned about its promise for treating opioid-exposed infants, and co-founded the startup company Prapela with Paydarfar and Wyss Lead Staff Engineer Jim Niemi. Prapela acquired a license from Harvard University to commercialize this technology in 2018.
Impact
Within its first four years of existence, Prapela won non-dilutive funding and awards from the Charles H. Hood Foundation, Johnson & Johnson, the Children's National Health System, the Baylor College of Medicine, the Massachusetts Life Science Center, the Maine Technology Institute and the Ohio Opioid Technology Challenge to bring their technology to market. The company has received over $2.7 million in grants from the NIH for both a Phase I and Phase II SBIR study, and won FDA Breakthrough Device status as a treatment for infant opioid exposure. In 2023, Praela also received FDA Breakthrough Device designation to explore the use of its proprietary stimulation to treat apnea of prematurity. Following successful completion of ongoing studies, Prapela plans to release a clinical version of its vibrating mattress for hospital use.