Engineers lead project to design mass-producible personal protective equipment
By Leah Burrows / SEAS Communications
(CAMBRIDGE, Mass) — On a Thursday morning last month, Postdoctoral Fellow Daniel Reynolds made the hour drive from the Harvard campus to Worcester to deliver 350 face shields to frontline healthcare workers at St. Vincent's Hospital. The delivery was the culmination of weeks of work, led by a team of researchers in the lab of Jennifer Lewis, Sc.D., the Hansjörg Wyss Professor of Biologically Inspired Engineering at the Harvard John A. Paulson School of Engineering and Applied Sciences (SEAS) and Core Faculty member of Harvard's Wyss Institute for Biologically Inspired Engineering. Working with healthcare professionals, Lewis's team designed, prototyped and fabricated low-cost, plastic and foam-based face shields that can be quickly mass-produced.
To date, they have delivered almost 1,000 face shields to local area hospitals to address the shortage of personal protective equipment (PPE) for healthcare workers on the frontlines of COVID-19.
"Our team worked around the clock to design, fabricate, and test multiple face shield iterations, so that they could help the frontline medical workers who desperately need PPE," said Lewis.
The project began shortly after the University announced it would be shuttering physical operations and closing labs to help slow the spread of the coronavirus.
Like most researchers across campus, Sanlin Robinson, Ph.D., a Postdoctoral Fellow at SEAS and the Wyss Institute, spent the days following the announcement shutting down experiments and packing up spare personal protective equipment to donate to local health care providers. When she arrived home after what she thought was her last day in the lab, Robinson was already impatient to do more.
"I thought, here you have all these highly trained and skilled engineers who like to make things and it seemed like a waste of resources for all of us just to sit at home," recalled Robinson.
She opened her lab group chat and posted a question: Would anyone be interested in making protective equipment for healthcare workers? Immediately, lab members Dan Reynolds, and Sébastien Uzel, Ph.D., along with many others, jumped on board.
"We were reading all of these articles about the desperate need for personal protective equipment," said Reynolds, Ph.D., who is a Postdoctoral Fellow in the Lewis lab. "It seemed like an important problem to point our enthusiasm towards."
Reynolds forwarded such an article to Lewis, along with their idea to address this shortage, and Lewis immediately began working with the University to reopen the lab.
Within three days, Robinson and Uzel were back in the lab, designing a face shield.
"Tackling this kind of project felt natural to us, since our lab has one foot in engineering and one foot in biotechnologies for healthcare purposes," said Uzel, Ph.D., who is a Research Associate at the Wyss Institute and SEAS in the Lewis lab. "We all felt good that we had a way to use our engineering skills to help healthcare workers."
Within a day, Robinson and Uzel had the first iteration of the design and prototypes ready for testing by healthcare workers. They organized a focus group with a team of clinicians from Brigham and Women's Hospital, Boston Children's Hospital, and Beth Israel Deaconess Medical Center.
Reynolds, who took on the role of clinician liaison, brought two shield prototypes to the Wyss Institute in Longwood for the clinicians to try on — one with a thin, flexible laser-cut faceplate and one with a rigid faceplate that had been taken from a face shield in the Lewis Lab machine shop.
Robinson and Uzel watched via a Zoom connection as the group tried on and took apart each design.
"As engineers, we thought for sure the rigid faceplate would be chosen because it was sturdier and more resilient, but they literally threw it aside," said Reynolds. "They were looking for something lightweight that could be worn comfortably for 12 hours."
The clinicians also pointed out other design requirements, such as access for stethoscopes.
"From an engineering and design perspective, it was interesting to navigate those requirements because neither we nor the end users had a clear picture of how the shields would be used at the beginning of the project," said Uzel. "There were some basic things we didn't know, like how the virus was being transmitted. Did the shield have to be completely sealed or could there be some openings? Would we have to worry about patients vomiting and transmitting the virus that way? That obviously changes a lot of the design. So, on the fly, we had to address some of those challenges that were discovered as we went."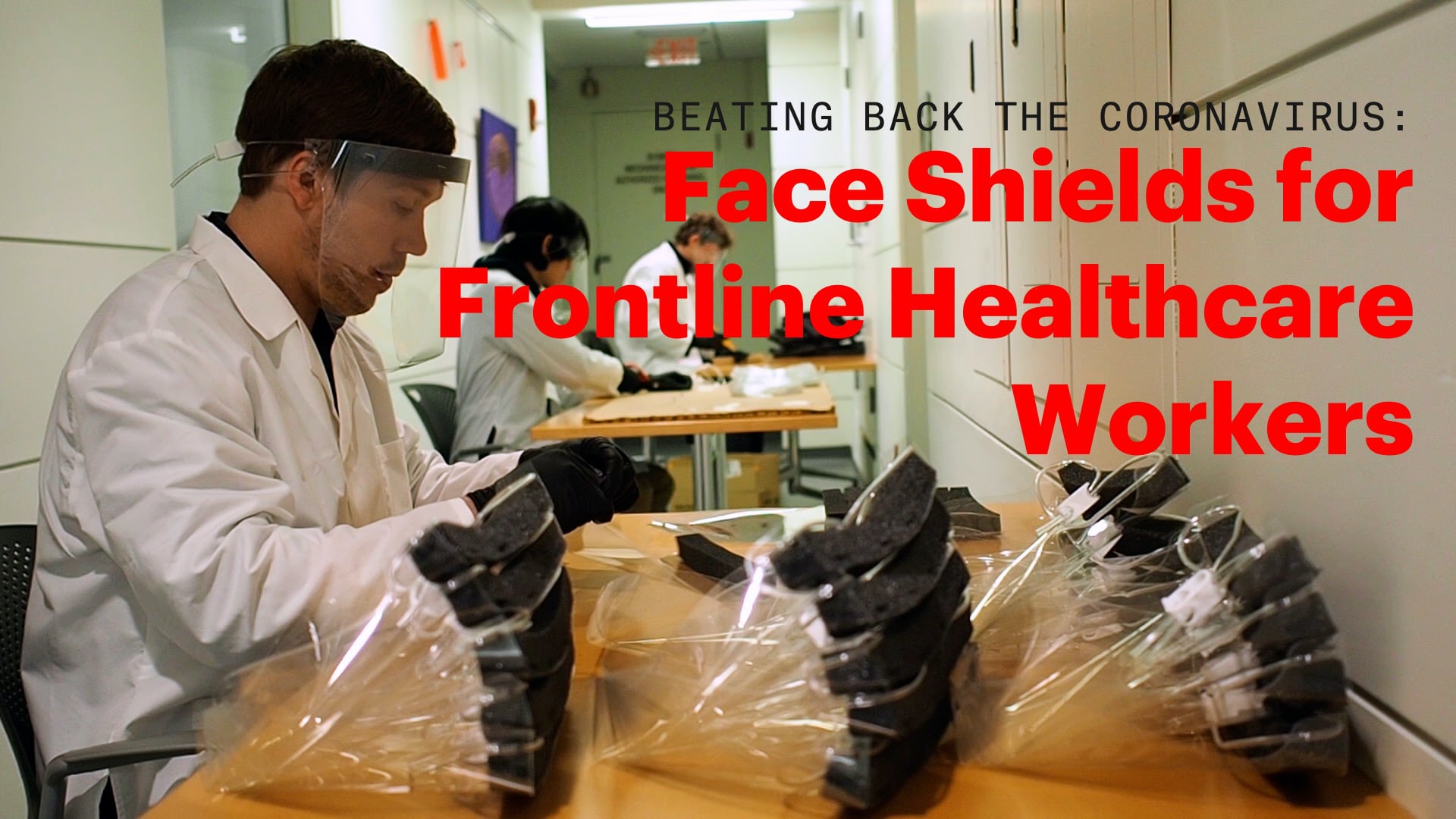 Over the next several weeks, Uzel and Robinson iterated on the designs, making changes based on feedback from the hospital-based clinicians and the availability of materials. Their designs were among many explored by the Face Shield Working group, a cross-institutional task force organized by Mass General Brigham (MGB) Center for COVID Innovation and led by Lewis. The working group initially brought together more than 150 engineers, makers, and clinicians to develop a mass producible face shield design. Each design was vetted by the working group and then the best designs, including two face shield designs from the Lewis Lab team, were vetted by Massachusetts General Hospital frontline medical workers as part of the MGB Center's validation group.
James Weaver, Ph.D., Senior Research Scientist at SEAS and the Wyss Institute, helped co-lead the working group and formed a crucial bridge to local manufacturers.
"Working together, we helped support the needs of MGB's frontline medical workers and beyond," said Lewis.
In the meantime, Lewis's team continued to pursue their own scaleup manufacturing efforts in her lab.  Graduate students Aric Lu and Katharina Kroll were among the volunteers that joined Robinson, Uzel, and Reynolds to help make 1,000 face shields.  While laser cutting plastic shields and assembling foam headbands isn't quite the same as their typical lab work, both Lu and Kroll were happy to help.
"We're experimentalists," said Lu. "It feels just as natural for us to pick up a stapler as to pick up a pipette."
"Even though we were just laser cutting all day, we were doing something useful," said Kroll. "It felt good to go to work and build something again."
The project ran the length of Oxford Street on the SEAS Cambridge campus, with Lu, Reynolds and Robinson working from the Lewis lab in the basement of the Northwest Building to Kroll and Uzel in the physics machine shop in Lyman Hall, working with Stan Cotreau, the manager of the machine shop.
"Getting assistance from Stan in the physics department and being able to use their large laser cutter was critical to fabricate the hundreds of shields we needed to make," said Uzel. "It really was such a team effort."
On April 16th, almost exactly a month after Robinson sent out that first group text, the first batch of face shields was delivered to St. Vincent's Hospital in Worcester.
"Protecting our frontline caregivers, and ultimately our patients, during this unprecedented pandemic is of utmost importance to Boston Medical Center, and Harvard stepped up when the health care industry needed them most," said Norman Stein, the Chief Development Officer and SVP at Boston Medical Center. "The development, manufacturing and delivering of critical, lifesaving personal protective equipment has made a world of difference for our frontline staff who are working tirelessly to keep our community healthy."
A week later, Reynolds dropped off the second batch of 340 shields to Boston Medical Center.
The team has a second delivery to St. Vincent's planned in the coming days. Meanwhile, the MGB Center for COVID Innovation is identifying manufacturers to mass produce these shields. Lewis' team will also make their two face shield designs available on an open source site for anyone to download in order to ramp up supplies nationally.
"I feel like the quarantine didn't start for me until the past few days because we've been so busy on this project," said Robinson.  "Compared to our regular work, there was a sense of immediateness. It was exhausting, but also amazing to have an idea, come up with a working prototype, and have it in the hands of people who need it all within a matter of weeks."
"I am truly proud of every member of my lab who contributed to this effort," said Lewis. "They have such big hearts and simply wanted to do their small part in this important fight."
Mark Skylar-Scott and Emily Davidson also contributed to this project.