Whether identifying new drugs to target cancer cells, or trying to understand the basic mechanisms underlying disease onset and development, scientists must understand a critical question: How do the molecules of life interact?
Analysis of these interactions between bio-molecules has long been dependent on the use of expensive and elaborate equipment, creating barriers of cost, complexity and throughput for scientists without access to these technical tools.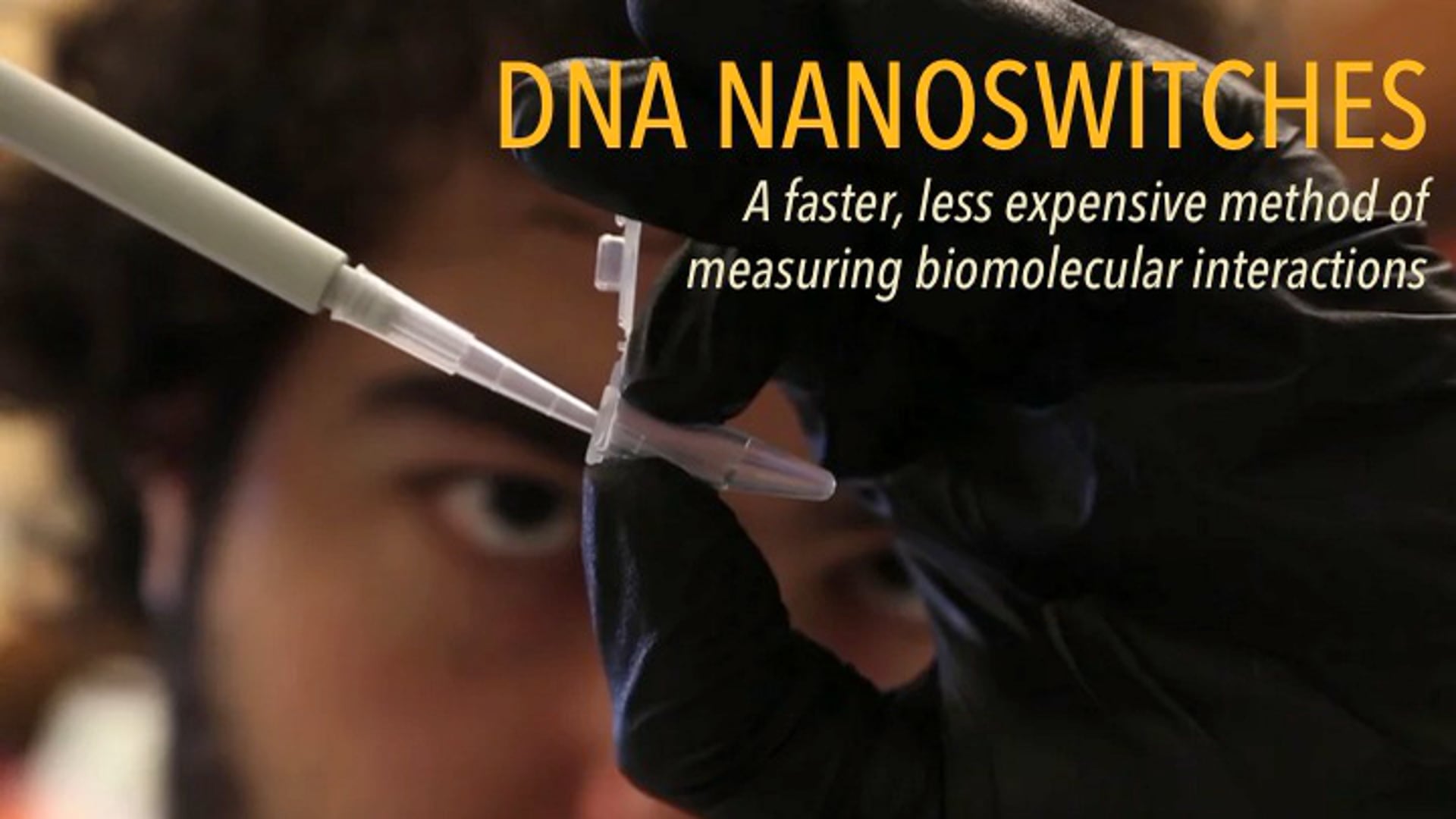 A team of researchers led by Wyss Associate Faculty member Wesley Wong, Ph.D., set out to break those barriers and open doors for scientists in virtually any laboratory by creating inexpensive tools for probing molecular interactions. Called, DNA "nanoswitches", (view Wyss Institute press release) the new nanoscale tools are made from strands of DNA that report how molecules behave, enabling biological measurements to be made by almost anyone, using only commonly available laboratory reagents.
DNA nanoswitches comprise programmable strands of DNA, onto which molecules of interest such as potential new drug compounds can be strategically attached. When interactions between these drug molecules take place, it causes the shape of the DNA strand to change from an open and linear shape to a closed loop. Standard gel electrophoresis, a common laboratory procedure, can then be used to sort open vs. closed nanoswitches, allowing for easy quantitative analysis on how successfully the drugs work.
Not only useful for experimenting with new drug compounds, DNA nanoswitches can also inform scientists about the behavior of molecules of life that control the development of healthy organisms as well as the onset and progression of disease.
---
Use DNA Nanoswitches in your Lab
Ready to get started? Receive free materials to start building. Click here to fill out the DNA Nanoswitch Starter Kit Contact Form.
Then, learn how to put DNA nanoswitches to work by watching the video series below, which outlines a step-by-step protocol for building and using DNA nanoswitches.