Metalmark is harnessing nanoarchitectured catalyst technology developed at the Wyss to create super-efficient and affordable air purification systems for indoor and outdoor use, inspired by the structure of butterfly wings.
The Problem
Despite the passage of the US Clean Air Act in 1963 and other similar efforts to improve air quality, air pollution and the illnesses it causes remain a leading cause of death around the world. An April 2021 study found that one in five deaths globally (18 to 22%) can be attributed to breathing in fossil fuel air pollution every year. Catalytic converters are the most widely used pollution emission control devices, and are installed in many smokestacks and car tailpipes. However, standard catalytic converters are very expensive because the catalysts used in them are precious metals, and they are inefficient because not all of the precious metal particles come into contact with the air they are meant to clean.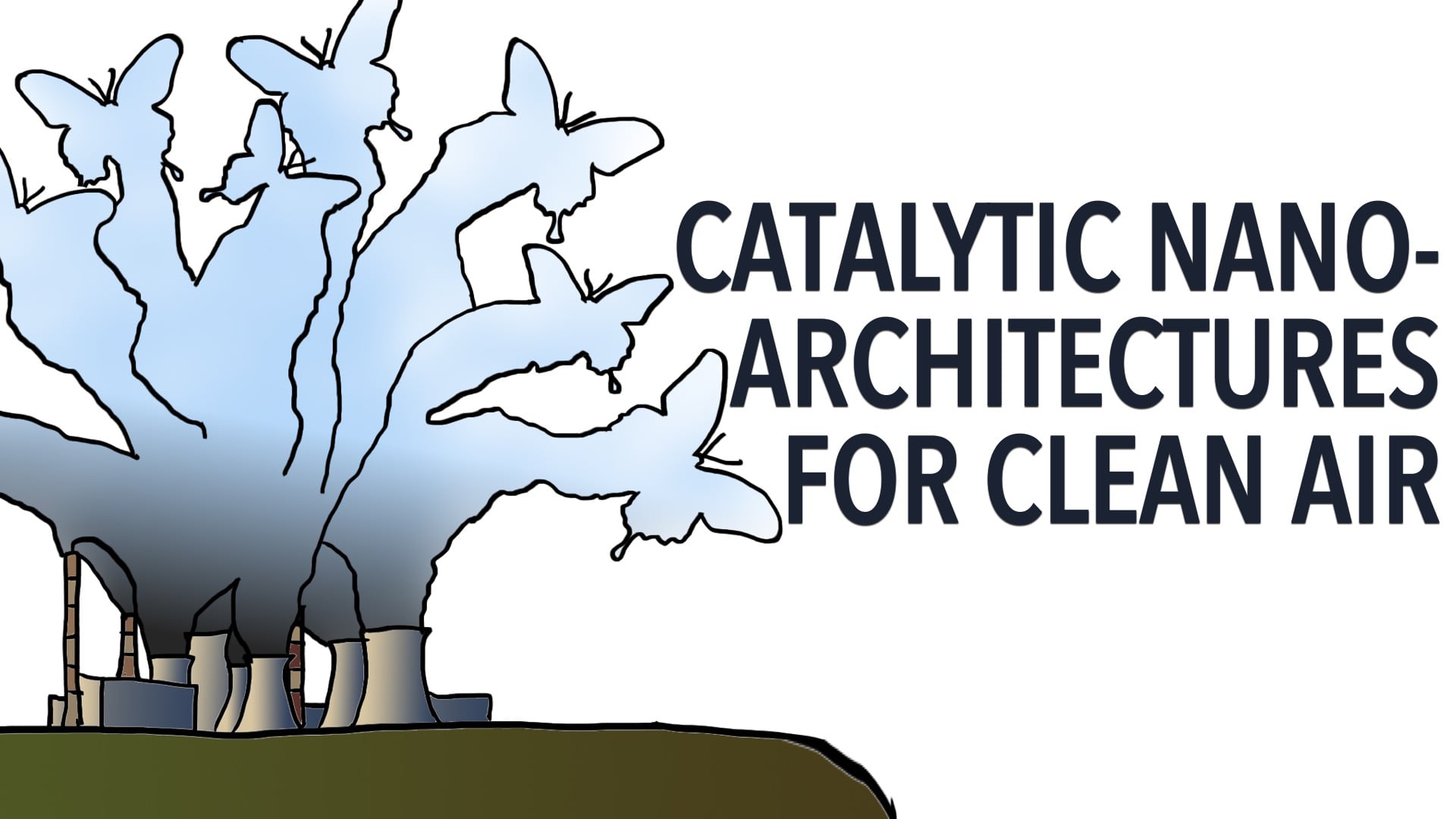 Our Solution
Researchers at the Wyss Institute and Harvard SEAS developed a new type of catalytic coating that is inspired by the honeycomb-like nanostructure of butterfly wings. This underlying structure creates tiny channels through which air can flow unimpeded, and precisely placing catalyst nanoparticles on the surfaces of these channels maximizes air purification while dramatically reducing precious metal costs. These coatings can be easily integrated into the existing $20B catalytic converter industry, and their lower cost could allow developing countries and retail consumers access to lifesaving air purification technology, both for indoor and outdoor spaces.
Product Journey
Wyss Associate Faculty member Joanna Aizenberg, Ph.D. and her lab are unraveling the mysteries of Nature's biological building blocks, and how their shape and chemistry change their material properties. The brilliant colors of butterfly wings, for example, are created by the way light bounces off of nanoscale physical structures on their surfaces – no pigment molecules are actually present. The team was inspired by this structure and began exploring ways to emulate it in the lab, resulting in a highly porous nanoarchitecture whose properties could be tuned for different potential uses. Given the urgent need for more effective and affordable catalytic air purification, the researchers decided to develop their invention into a platform that destroys airborne pollutants using up to 95% less catalytic metal material and at lower operating temperatures than existing catalytic converters.
The team's technology first worked in the lab in 2016, but they knew they would have to dramatically scale it up to prove that it could clean a whole building's worth of air. They submitted their project to the Harvard President's Innovation Challenge in 2017 and won second place, which gave them confidence that it could succeed commercially as well as technically. The same year, they were accepted as a Validation Project at the Wyss Institute, and spent the next two years optimizing and scaling up their technology.
Impact
In 2020 Metalmark Innovations, PBC., a startup company co-founded by Aizenberg and former Wyss Institute members Tanya Shirman, Ph.D., Elijah Shirman, Ph.D., and Sissi Liu, licensed this technology, which was validated by a National Lab and tested by an industrial partner. Metalmark won the Smart City prize at the 2020 Hello Tomorrow Global Challenge, and was accepted into Cohort 07 of URBAN-X. In 2023, Metalmark announced its first product – Tatama, the world's first self-cleaning commercial air purifier. Tatama uses Metalmark's enhanced HEPA-grade filters with proprietary embedded materials to capture airborne particulates, smoke, VOCs, and pathogens, including viruses, bacteria, and mold. In just minutes a month, Tatama destroys the collected materials, converting them into water and air, while extending filter life by years.