Desktop Health, a healthcare business within Desktop Metal Inc. that focuses on new 3D printing and biofabrication solutions for personalized medicine, is developing PhonoGraft toward commercialization with the members of former Wyss startup Beacon Bio leading the way.
 The Problem
The eardrum, or tympanic membrane, is a thin membrane evolved to conduct sound into the ear, and serves as a protective barrier against invading pathogens. It can become perforated by blasts, traumatic injuries, and chronic ear infections, affecting millions of people worldwide. Despite the eardrum's remarkable self-healing powers, many perforations do not heal by themselves and require reconstructive "tympanoplasty" procedures in which ear surgeons repair the hole with tissue grafts harvested from the patient's temples. However, even with modern endoscopic techniques, surgical failures are common, making revision surgeries necessary. In addition, patient-derived tissue grafts have imperfect sound-conducting abilities, as their structure does not match that of the intricate structure of the normal eardrum.
Our Solution
A collaborative multidisciplinary team at Harvard's Wyss Institute, John A. Paulson School of Engineering and Applied Sciences (SEAS), and Massachusetts Eye and Ear (MEE)/Mass General Brigham (MGB) has developed the PhonoGraft technology, which utilizes a novel biomaterial-based approach to guide the regeneration of native eardrum tissue. Its 3D-printed structure mimics the structure of a normal eardrum and effectively stimulates its self-healing properties, as shown by the researchers in preclinical animal studies. The PhonoGraft device – unlike other methods – could potentially enable permanent repair by first closely mimicking, and then restoring the eardrum's sound-conducting mechanical properties and barrier functions.
Product Journey
Aaron Remenschneider, M.D., and Elliott Kozin, M.D., two otologists and neurologists at MEE, frequently treated patients with perforated eardrums that re-ruptured required revision surgeries. The number of patients peaked following the Boston Marathon bombing on April 15, 2013, which became a catalyzing event prompting the two clinician-scientists to look for improved eardrum graft materials. The 3D printing advances and tissue engineering interests of Jennifer Lewis' group at the Wyss Institute and SEAS were a natural fit to confront this problem, and Nicole Black, Ph.D., who had just joined the lab as a graduate student, took on the challenge of creating a new biomedical device to address patient needs.
The first devices 3D printed by Black with off-the-shelf materials mimicked the eardrum's circular and radial collagen pattern but did not exhibit the ideal combination of easily-implantable, cell-supporting, sound-conducting, and biodegradable properties that the team was envisioning. Ultimately, the researchers developed a new programmable polymer-based "ink" system for soft tissue repair that enabled the production of a regenerative graft with the sound-conducting structure of the native eardrum, the ability to guide the tissue-regenerative process, and the desired biodegradable properties. Implanted into a preclinical chinchilla animal model with chronic eardrum perforations, the team's second generation PhonoGraft technology allowed full restoration of sound conduction and reconstruction of the eardrum, including its different cell types and vascular system.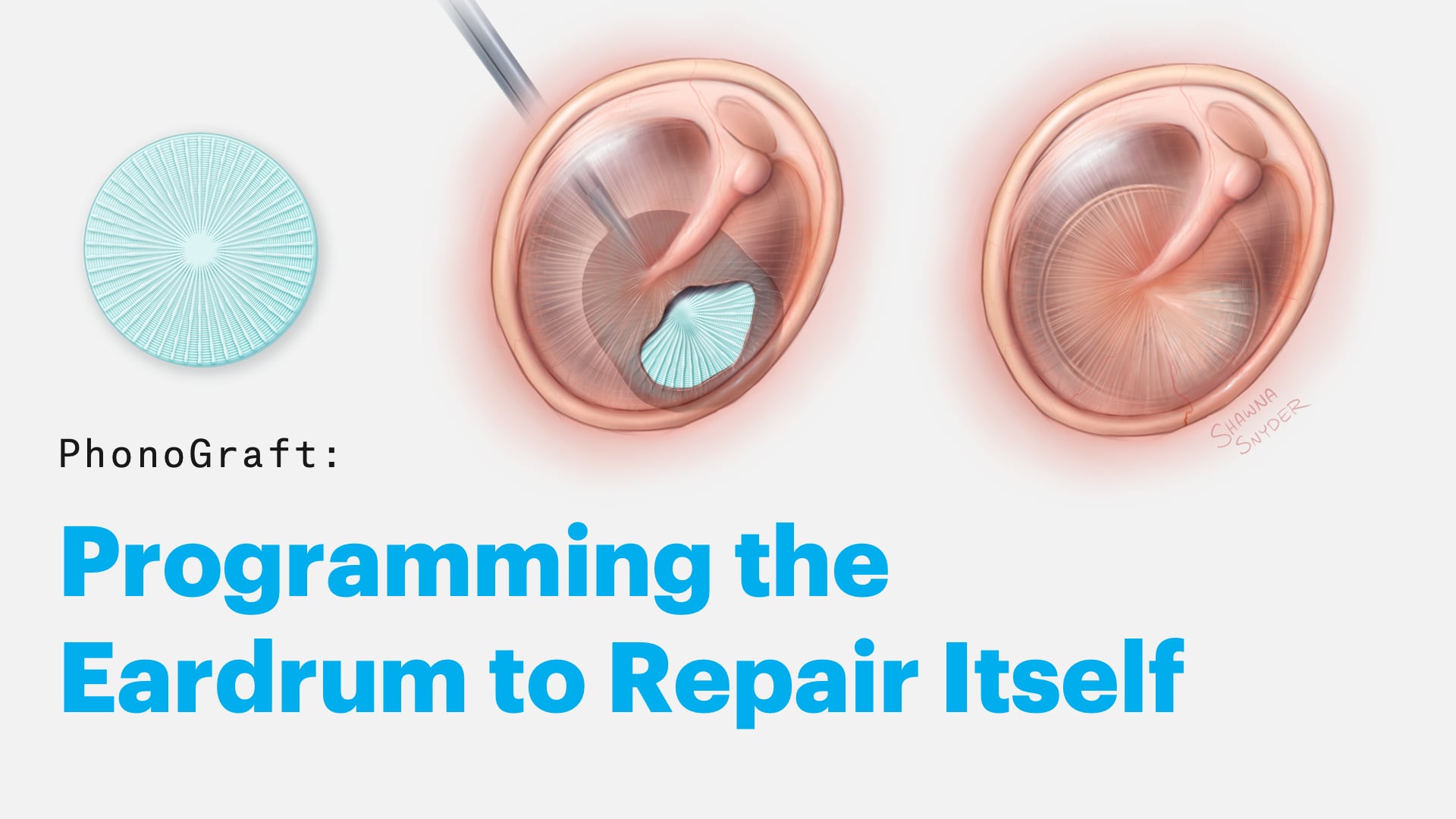 Impact
Early in the development of the PhonoGraft technology, the project's founding team of Black, Lewis, Remenschneider, and Kozin decided that forming a startup company would be the most effective way to make their innovations available to patients, and started to work toward founding a company they planned to call "Beacon Bio."
Harvard's Office of Technology Development (OTD) provided coaching and guidance on the business model and executed an intellectual property strategy to support it. Based on the research project's initial success, the Wyss Institute's selected PhonoGraft as a high-priority Institute Project to enable the researchers to further de-risk their technology, assemble a larger team with broad technical expertise, and develop a business development strategy to approach the market and potential investors. The Beacon Bio team also became a member of the Harvard Innovation lab (i-Lab), which provides fundraising advice, market research, VC connections and educational workshops for entrepreneurs of early-stage life science or biotech ventures.
Beacon Bio was named the $25,000 winner for the Health & Life Sciences Track in the 2021 Harvard President's Innovation Challenge, held annually by the i-Lab to reward promising translational initiatives that push the boundaries of their fields. In addition, the team participated in the MassMEDIC IGNITE MedTech accelerator program, gaining valuable insight into the medical device industry through targeted mentorship and workshops. Their participation in the IGNITE program culminated in winning a runner-up prize at the 2021 MD&M BIOMEDigital virtual pitch competition.
In early 2021, entrepreneurial members of the research team officially launched the Beacon Bio startup with an exclusive license from Harvard OTD to commercialize the PhonoGraft innovations co-owned by Harvard and Mass General Brigham. Shortly after, Beacon Bio was acquired by Desktop Metal, Inc. for its California-based healthcare business, Desktop Health, which focuses on new 3D printing and biofabrication solutions for personalized medicine. Black, the former CEO of Beacon Bio, continues to lead the platform as Vice President of Biomaterials and Innovation at Desktop Health, with the team now focusing on obtaining FDA clearance for the PhonoGraft device after taking up operations at Greentown Labs in Somerville, Massachusetts. Lewis, Remenschneider, and Kozin continue to assist the team's journey through their roles as scientific advisors.