Novartis has licensed the Wyss Institute's biomaterial-based cancer vaccine technology as an immunotherapy to treat specific tumor types.
The Problem
Immunotherapies have emerged as a promising tactic in treating cancer, including "cancer vaccines" that train a patient's immune system to attack cancerous tumors. However, most therapeutic cancer vaccines available today require that doctors remove a patient's immune cells from their body, reprogram them in the lab, and then reintroduce them back into the body, which is very time-consuming, expensive, and prone to failure, as up to 90% of the engineered cells can die after reinjection.
Our Solution
The Wyss Institute's implantable cancer vaccine is a disk-like sponge about the size of an aspirin tablet that is made from FDA-approved polymers. The sponge contains growth factors and components of a patient's unique tumors that recruit and reprogram the patient's own immune cells "on-site," instructing them to find and kill cancer cells in the body. The immune "memory" created via this process also protects against future recurrences of cancer, even if it appears in a different place in the body. The vaccine is implanted under the skin and is biocompatible, dissolving into harmless components that are then cleared from the body within a few weeks. In addition to cancer, it could one day treat infectious and autoimmune diseases.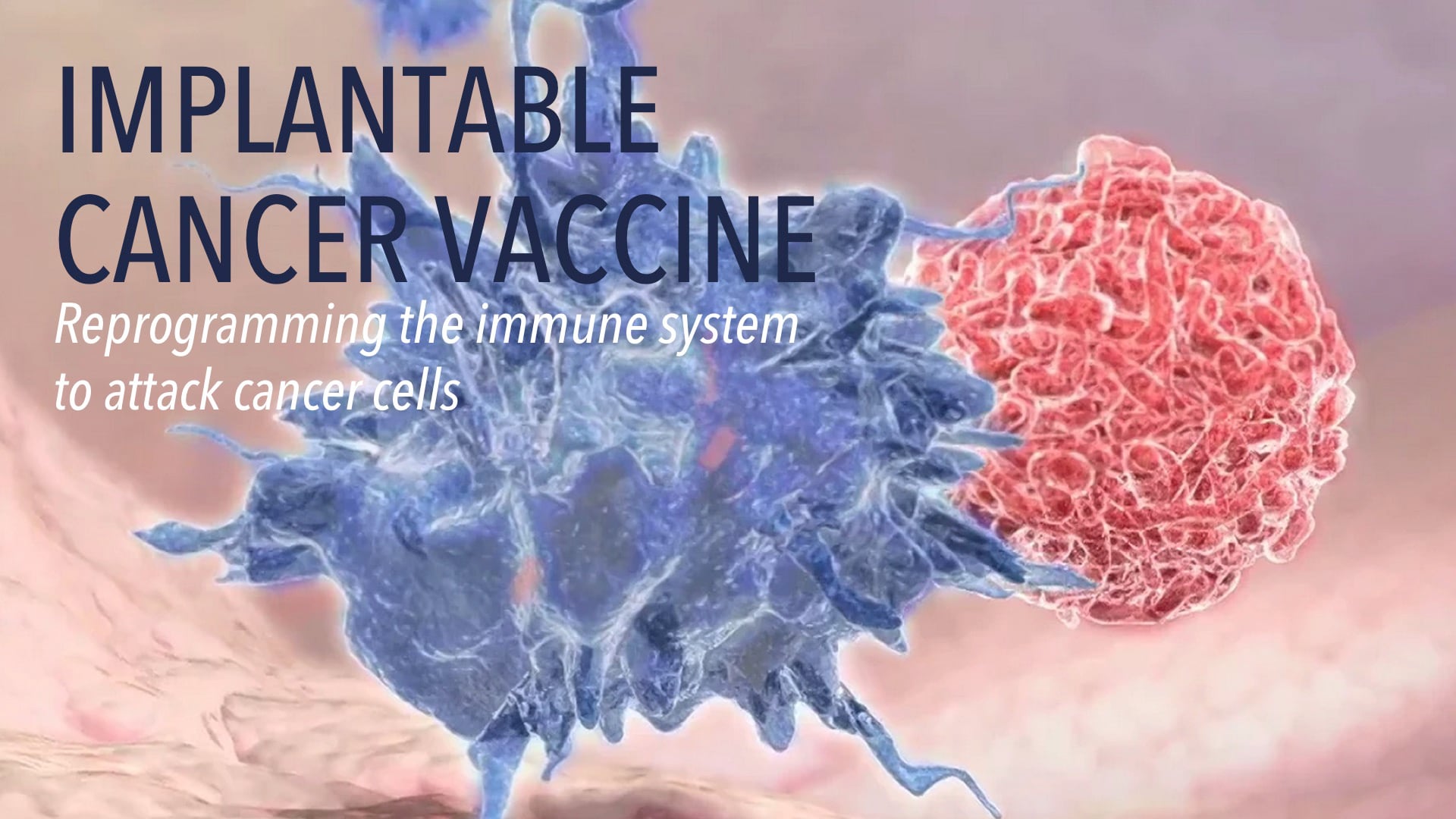 Product Journey
Wyss Core Faculty member and leader of the Immuno-Materials Platform Dave Mooney, Ph.D. has had a longstanding interest in cell-based therapies for diseases like cancer. He and his lab wondered if they could simplify the concept of training the body's own immune system to fight cancer by moving that whole process into the body, instead of doing parts of it in a lab. The lymph nodes are the natural training ground for immune cells, but cancer cells secrete chemical signals that can disrupt this process. Mooney realized that if he could construct and implant an artificial lymph node, it might provide a safe haven in which to train and activate immune cells to attack cancer.
In 2009 Mooney's team reported that their cancer vaccine, which functions as an artificial lymph node, eradicated melanoma tumors in mice without damaging the animals' healthy tissue. Inspired by this dramatic response, they performed extensive preclinical studies at the Wyss Institute that demonstrated that the cancer vaccine could potentially shrink or eradicate multiple types of tumors, in addition to providing prophylactic protection, in various animal models. These results spurred the initiation of a Phase I clinical trial in collaboration with the Dana-Farber Cancer Institute to evaluate the vaccine's effects on melanoma in humans in 2013.
The cancer vaccine was implanted into its first human patient just over three years after its first publication – a process that usually takes six to seven years in traditional pharmaceutical and biotech companies. The results of the clinical trial, including one patient with advanced melanoma who was cancer-free for multiple years after receiving the vaccine, attracted the attention of drug giant Novartis, which licensed the technology from the Wyss Institute in 2018.