Wyss Institute projects featured in 2019 Cooper Hewitt Design Triennial
By Lindsay Brownell
(BOSTON) — Nature has a knack for producing things that seem to be perfectly designed for their place in the world: the sticky pads on geckos' feet that help them grip slick surfaces, the way sunflowers turn to 'follow" the sun throughout the day, the shape of snakes' scales that allow them to grip the ground when flexed and slither over it when relaxed. The growing recognition that the natural world is a source of nearly boundless inspiration for design is the basis of "Nature—Cooper Hewitt Design Triennial," an exhibition that opens today simultaneously at the Cooper Hewitt Design Museum in New York and the Cube Design Museum in Kerkrade, The Netherlands. Featured among the more than 60 exhibits are five designs that represent Wyss Institute projects ranging from multi-scale molecular animations to a soft robotic glove to a new medical-grade adhesive, all of which take their cues from nature.
"Evolution has created exquisite solutions to the many challenges that life faces in its attempt to survive a changeable, sometimes extreme environment, and both scientists and designers can gain a great deal of insight from looking at natural systems and structures that have arisen over millennia of trial-and-error, selection, and optimization," said Wyss Institute Founding Director Donald Ingber, M.D., Ph.D., who is also the Judah Folkman Professor of Vascular Biology at Harvard Medical School (HMS) and the Vascular Biology Program at Boston Children's Hospital, as well as Professor of Bioengineering at Harvard's John A. Paulson School of Engineering and Applied Sciences (SEAS).
The Design Triennial series, inaugurated in 2000, looks at new developments in design as they surface in a variety of fields around the world. This year's event features innovative projects that highlight the ways designers are collaborating with scientists, engineers, farmers, environmentalists, and nature itself to design a more harmonious and regenerative future. The works featured span various design disciplines, including architecture, urbanism, product design, landscape design, fashion, communication design, and healthcare that enhance and reimagine humans' relationship to the natural world. The exhibition seeks to inspire ideas, collaboration, and dialogue to address the most significant and consequential environmental and humanitarian issues of our time.
The exhibits are displayed in both museums, and are organized into groups based on different ways humans can interact with nature: Understand, Simulate, Salvage, Facilitate, Augment, Remediate, and Nurture.
Understand Nature
Patricia Wright, a renowned conservation biologist, says, "You can't save what you don't understand." Similarly, we cannot learn from nature until we understand how it works. The two Wyss projects featured in "Understand Nature" aim to elucidate the innermost workings of life, from the microscopic down to the atomic scale.
Inspired by the structural complexity of biological forms, James Weaver, Ph.D., Senior Staff Scientist at the Wyss Institute, has spent much of his research career developing innovative scanning electron microscope (SEM) imaging techniques to document this diversity. Weaver's electron micrographs are produced with a customized multi-detector SEM, which scans the surface of a sample using a focused beam of high-energy electrons. The signals from each of the detectors are color-coded and subsequently recombined, creating a polychromatic electron micrograph, where variability in surface topography is revealed in a dazzling array of hues. The images on display at the Triennial are of farmed coral specimens from the tropical Indo-Pacific, which demonstrate the skeletal complexity and natural beauty of these incredibly diverse and ecologically important marine invertebrates.
While SEMs allow us to capture highly detailed images of life at the micro- and nano-scales, they only record a static snapshot of the complex choreography that is occurring in real-time in living systems. In order to observe this dance of molecules, Wyss Senior Staff Scientist Charles Reilly, Ph.D. creates computer models generated by combining molecular dynamics simulation with physics-based animation programs from the entertainment industry that weave together multiple simulations of molecules and atoms at different temporal and size scales. A five-minute video showing renderings of his models is on display at the museums, during which viewers are treated to the haphazard movements of water molecules, the tree-like structure of the molecule ATP synthase, and the communities of atoms that come together to create life. "Approaching my work from an artistic perspective allows me to develop hypotheses that are translated from the creative realm into my work on drug discovery, and are then validated through experimentation in lab. Art really is a very integral part of science for me," said Reilly.
Simulate Nature
Once natural processes are understood, they can be used to inform the design of manmade materials and objects. A project being spearheaded by Benjamin Freedman, a Postdoctoral Fellow in the lab of Wyss Core Faculty Member Dave Mooney, Ph.D., its inspiration from the humble Dusky Arion slug to create new adhesive materials for medical settings. "Our adhesive simulates the mucus secreted by this particular type of slug, which is simultaneously very strong and very sticky, even in the presence of liquids," explained Mooney, who is also the Robert P. Pinkas Family Professor of Bioengineering at SEAS. "We mimic the composition of this mucus to create adhesives that outperform those currently available commercially in the medical field." The team's slug-glue-inspired product can stick to moving tissues inside the body, maintain their stickiness in the presence of blood and other fluids, and can be engineered to safely biodegrade.
Augment Nature
While nature is usually quite happy to function on its own without human intervention, sometimes it needs a little help from humanity to reach its full potential. A team of researchers from the Wyss Institute is working on a project they dub "Organ Origami," which involves growing living kidney cells on an engineered, porous membrane that degrades over time so that the final product is an artificial "kidney" composed purely of cells and their extracellular matrix, just like a real organ. "The porous membrane that we developed to support the cells is produced in large, flat sheets, so we needed a way to fold it up into a dense kidney-sized package, so we turned to a technique called 'closed origami. Imagine folding a pita bread into a paper airplane shape, and that's basically what we're trying to do," said Richard Novak, Ph.D., a Senior Staff Engineer who is leading this project and working in collaboration with Wyss Research Technician Elizabeth Calamari, Wyss Associate Faculty member and faculty member at Harvard Graduate School of Design Chuck Hoberman, and Ingber.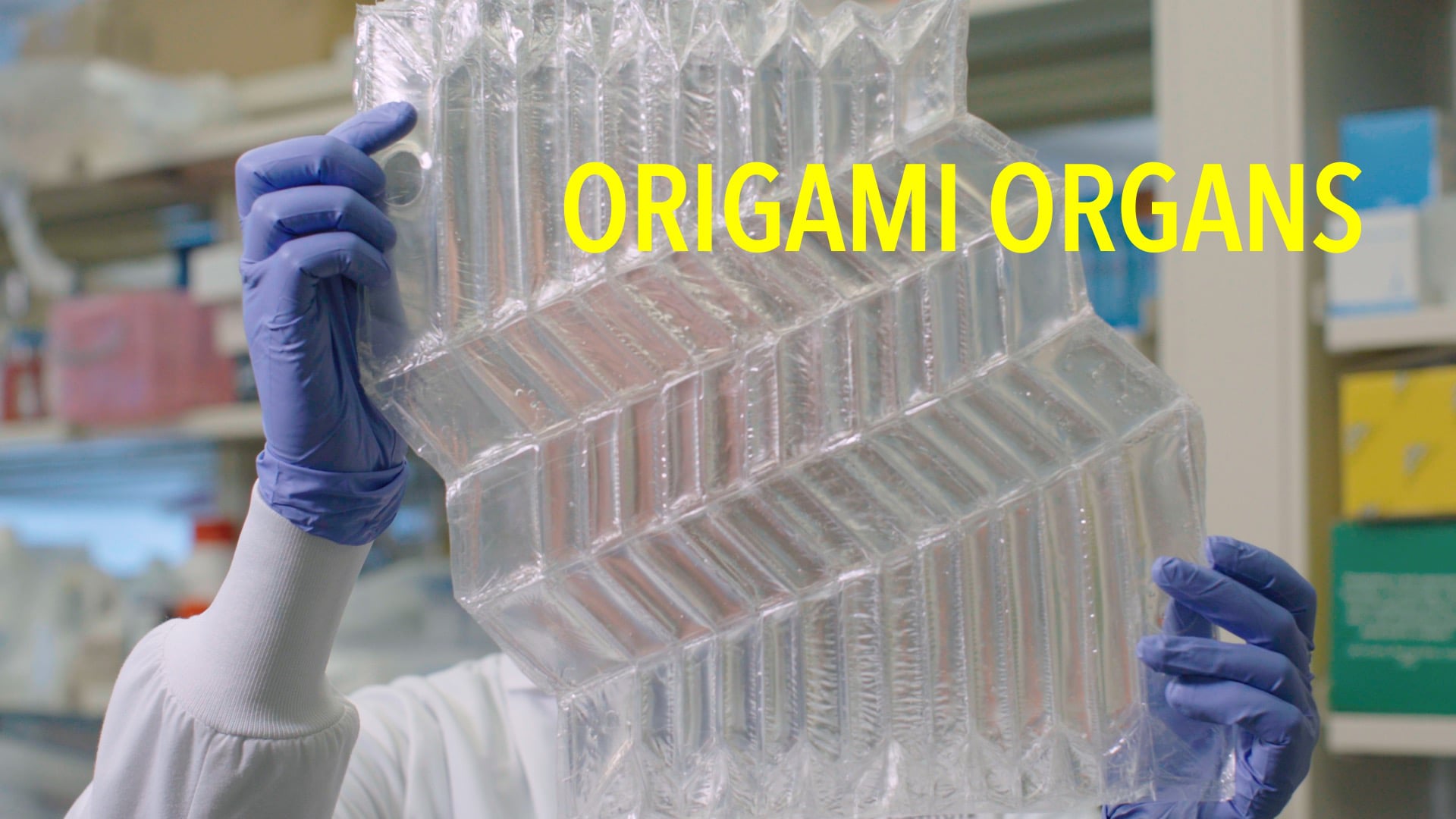 The team's submission to the Triennial is a two-by-three-foot light box on top of which are placed samples of the porous membrane in different states of folding, accompanied by a photo of the types of cells that are grown on the membrane in the lab. Once the membrane is folded into a kidney-sized structure, UV light is used to harden it into a scaffold on which the cells can proliferate and eventually replace with themselves. "We hope that this approach could one day lead to the creation of portable dialysis machines that behave more like normal kidneys, which would be much more convenient and healthier for dialysis patients, and our end goal is to use this 'nature augmentation' approach in combination with biodegradable materials to engineer kidneys and other organs for patients awaiting transplants," said Novak.
Remediate Nature
Sometimes, if left to its own devices, nature results in situations that are sub-optimal for humans, like autoimmune responses, muscle deterioration, and nerve damage. The Harvard Biodesign Lab, led by Wyss Core Faculty member Conor Walsh, Ph.D., is creating soft, wearable robots to help people with nerve and muscle issues perform their daily tasks despite their impairments, working within the Wyss Institute's Bioinspired Robotics platform. Their soft robotic glove is textile-based and equipped with inflatable air chambers that assist the fingers in closing or opening, and provide extra grip strength. The glove is soft, flexible, and unobtrusive when not inflated, allowing it to integrate into wearers' daily lives. "The field of wearable robotics is growing rapidly, and the use of textiles and functional apparel holds great promise for developing assistive devices that fit and feel just like regular clothing. We hope that one day our glove could help the millions of people across the United States and the world affected by hand weakness," said Diana Wagner, Senior Functional Apparel Designer at the Wyss Institute and leader of the project.
"We are very honored to have so much of our work featured at the Triennial. It is a wonderful example of how disruptive innovation can result when principles of design are integrated with science and engineering, and we hope that it encourages members of different fields to look both to each other, and to nature, for inspiration," said Ingber.