BOA Biomedical is developing the Wyss Institute's FcMBL pathogen-capture technology into products that quickly remove pathogens from the body and enable their rapid identification, giving critically ill patients a higher chance of survival.
The Problem
Infectious diseases have plagued humanity for millennia, and the pathogens that infect and sicken humans are constantly evolving. Severe infections can cause sepsis, a life-threatening condition in which a patient's immune system overreacts to the infection. The body starts to attack itself, which can lead to tissue damage, organ failure, and death. Sepsis is very common – one out of every three patients who die in hospitals every year have sepsis. It is also fatal if not treated quickly, as the death rate increases by up to 8% for every hour before correct treatment is administered.
Treating patients for sepsis is not an easy task, however; figuring out which patients have a systemic inflection that is likely to lead to sepsis, as well as which antibiotic therapy to use, requires lab tests that currently take days to produce results. More concerning is that when the blood of sepsis patients is cultured to encourage lurking pathogens to emerge, the tests produce a negative result 70% of the time, providing no way to identify the optimal therapy. As a stopgap measure, sepsis patients are often prescribed general broad-spectrum antibiotics in hopes that their infection will be cleared. But, as new pathogens and drug-resistant strains emerge, that approach is becoming less effective. Thus, there is an urgent need for therapies that can reduce the number of pathogens and the inflammatory molecules they release in septic patients' bodies, and for diagnostics that can quickly identify pathogens to guide proper treatment.
Our Solution
The Wyss Institute has created a pathogen capture platform that physically removes pathogens and inflammatory toxins they produce from the body, mimicking the way the human spleen filters and cleans the blood. The platform is based on a genetically engineered version of a naturally occurring human blood protein called Mannose Binding Lectin (MBL), which is part of the body's innate immune system. MBL binds to numerous types of pathogens including bacteria, fungi, viruses, and parasites. Wyss researchers fused the part of MBL that binds to pathogens with the Fc fragment of an antibody to form FcMBL, which similarly binds to over 100 different types of pathogens and can be used to rapidly identify the cause of an infection. Importantly, FcMBL removes both the live pathogen as well as the toxic products they release known as Pathogen Associated Molecular Patterns (PAMPs), which trigger the inflammatory cascade that leads to sepsis. FcMBL can be manufactured in large amounts in a high-quality and cost-effective manner, and it also has been shown to be well-tolerated in toxicology studies.
Product Journey
In 2010, Wyss Founding Director Don Ingber sent an email to the members of the fledgling organization, asking for help identifying a type of protein called an opsonin that could be used to treat infectious diseases and sepsis, as opsonins can bind to a broad range of foreign cells and substances in the body. That email found its way to Mike Super, who had just joined the Wyss as a Senior Staff Scientist. Super had studied opsonins for his Ph.D. at the University of London, and he replied to the email proposing the opsonin MBL for the project. Super and Ingber attached MBL molecules to magnetic beads, and found that the protein was far more effective at pulling pathogens out of blood in Ingber's "biospleen" device than antibodies attached to the beads had been.
Super had also previously worked in industry on fusing the Fc region of the human IgG antibody to cytokines and other biologicals, so he proposed using this technology to fuse the Fc region with MBL, creating FcMBL. Not only did this process make the protein much easier and cheaper to produce, it also removed some regions of MBL that stimulate complement and coagulation function, which were unnecessary for pathogen binding and can lead to toxicity.
Shortly after that, the US Defense Advanced Research Projects Agency (DARPA) announced a call for the development of a dialysis-like device that could treat sepsis by filtering pathogens from the blood. Ingber and Super wrote a grant proposal for their FcMBL technology, and DARPA selected their project for funding in early 2011. The Wyss team went into overdrive, performing experiments to demonstrate that FcMBL could effectively remove pathogens from human body fluids as well as diagnose infections.
The technology was named the Wyss Institute's first Institute Project in 2014 and underwent a year of intensive de-risking. When they were confident that FcMBL was both technically and commercially viable, Ingber and Super began exploring different options for bringing the technology to market. They found a commercialization partner in Chris Velis, Founder and Chairman of MedCap Funds, which is now known as Miraki Innovation. Velis, who had been monitoring the Wyss Institute's innovations and successes for nearly a decade, was impressed by FcMBL's early success in binding to pathogens, and believed that it provided an ideal solution to clinical demands in infectious disease management. After extensive discussions, MedCap agreed to develop FcMBL through a new company, BOA Biomedical, in October 2018. A licensing agreement between BOA and Harvard's Office of Technology Development was signed in September 2019, with Ingber and Super as Scientific Co-Founders.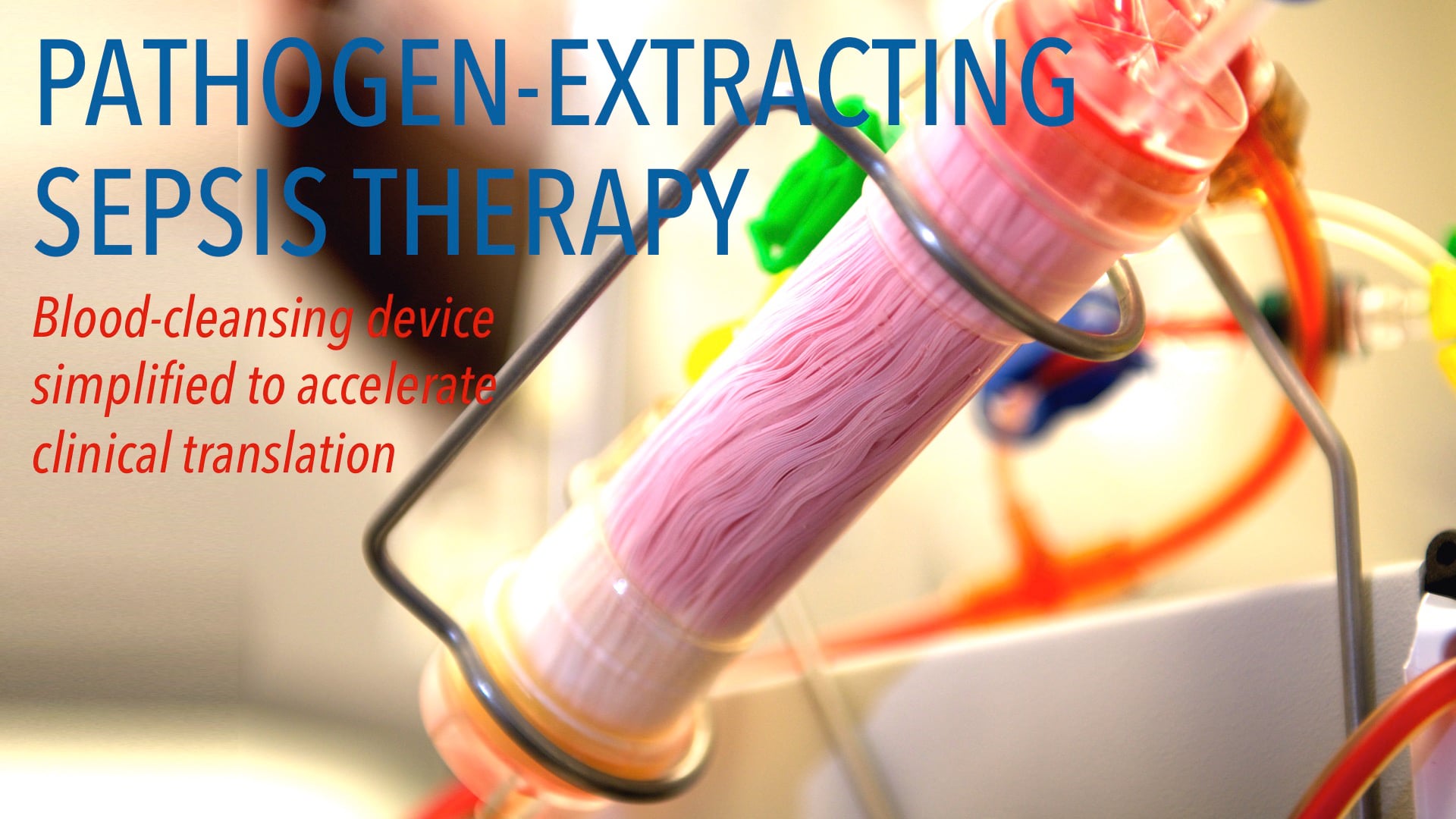 Impact
BOA Biomedical has developed their first product called GARNETTM, a platform technology that has demonstrated the ability to capture more than 120 clinically relevant bacteria, fungi, parasites, toxins and viruses, including SARS-CoV-2. In part as a result of the COVID-19 pandemic, GARNETTM began its first-in-human clinical trial in early 2021 along with its companion diagnostic device, AGATE™. Mere months later, BOA announced that the system was used to treat a dialysis patient with a suspected bloodstream infection without any adverse effects. More patients have since been enrolled in the clinical trial and treated with the device. The technology also remains one of very few with the potential to address COVID-19 in a non-drug-based mechanism of action.
In addition to treating sepsis and diagnosing disease, BOA is also developing FcMBL into a point-of-care test for identifying infections and their severity in non-clinical settings. In the longer term, BOA aims to develop large-scale countermeasures to tackle future pandemics, biothreats and infectious diseases resulting from antimicrobial resistance and novel pathogens. The company continues to work closely on R&D with FcMBL's inventors at the Wyss Institute: Ingber is a member of BOA's Board of Directors, and Super serves on its Scientific Advisory Board.